From all of the staff at LoMa, welcome back and we hope you had a restful and enjoyable break!
There is so much happening at our school that we want you to experience, so I have been spending the past several weeks working with Apptegy to tell our story in a new way. We are pleased to present a completely re-imagined website, and - for the first time ever - a brand new LoMa Schools mobile app that you can download from the Apple App Store and Google Play Store.
Please check back frequently, not just for regular announcements, but also for new features and improvements to our website.
Here are my Top 5 tips for getting the most out of our new website:
1. Find Quick Links at the top of the website
LoMa Leader: Find all of this school year's bi-monthly newsletters in one place
STOPit: Anonymously report bullying and safety threats
JMC Parent and JMC Student: Access the JMC portals with one click
2. Use the Menu for quick access to information

LIVE FEED: Timely announcements will be posted here, as well as our social media channels.
STAFF: This page includes contact forms and links to staff members' individual webpages.
NEWS: This section collects all of the articles posted to the site - like this one!
EVENTS: Need to check what's going on and when? This is the place for you! Easily add individual events to your personal calendar.
DINING: What's on the menu today? Next week? Want to print out a copy of the menus to tape to your fridge, or find documents related to our hot lunch program? It's all in this section.
DOCUMENTS: Browse board documents, download forms, read the handbooks, and view old newsletters. Most of these files are linked on other pages, menus, and news articles.
ATHLETICS: Use the dropdown menu to view the schedules for each sport. This section is most useful to view the entire season at a glance for a particular sport.
3. Scroll down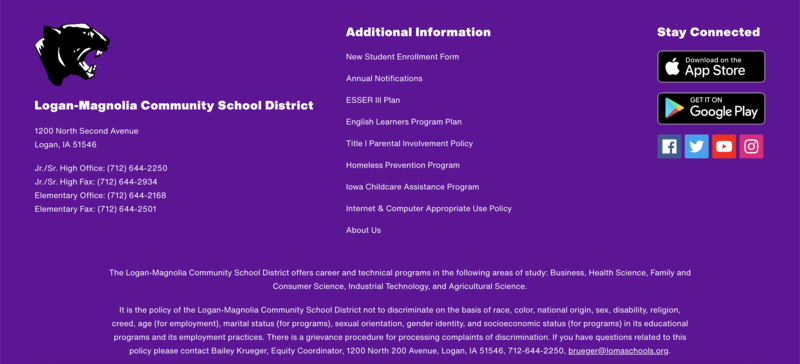 The bottom of every page on the website has the following information:
Phone and Fax numbers for both offices
Links that provide more detailed information about the services we provide to our students and families
Links to download our new mobile app
Links to our Facebook, Twitter, YouTube, and Instagram pages
Our non-discrimination policy and contact information for our Equity Coordinator
4. Explore the sub-menus
Take a couple minutes to explore the links in the menu, just to see what is available to you. Resources that apply to both elementary and secondary families can be found under the District menu.
5. When in doubt, search

Can't find something you need? Search for it! Your search will return pages, documents, staff members, events, and announcements.
BONUS TIP: Translation and Accessibility
Our site can be translated into Spanish by selecting from the language dropdown at the top of each page. Also, all of our site materials, including images and videos, are ADA-compliant and compatible with accessible technology.